GRASS FED GHEE
Brar's Grassfed Ghee is naturally gluten-free, non-GMO & the perfect expression of buttery goodness. As versatile as it is delicious, try it drizzled over any food to upgrade your meal and power your day. Grass-fed Ghee's high smoke point of 485°F make it great for most cooking applications, and all around pantry staple. This means your ghee-cooked foods, like roasted veggies, will not have oxidative damage that other, less stable cooking fats might. Cook, roast, bake, spread, drizzle, saute, rub, glaze, brush you get the picture. The uses of Grass-Fed Ghee are endless.
Brar's Grass-fed Ghee has just one ingredient:
100% MILK FAT

Why choose Brar's Grassfed Ghee?
100% pure butter fat from grassfed cows
NON GMO
Gluteen Free
Rich in Vitamin A, D & K
100% vegetarian
No additives, preservatives or salt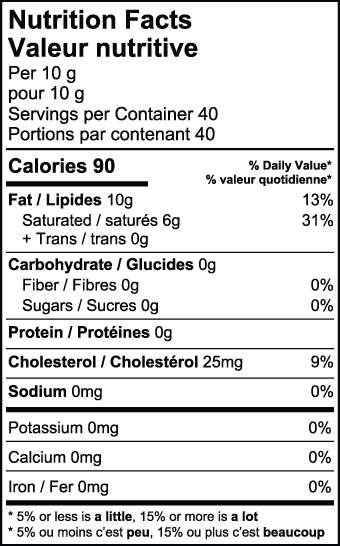 Ingredients
Milk Fat
Contains
Milk
Available Sizes
400 g